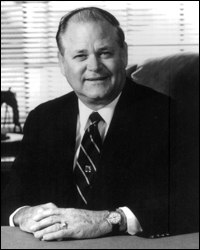 Ben Hill Griffin III is one of the giants of the Florida citrus industry. The son of legendary Florida land baron, citrus grower, and state legislator Ben Hill Griffin Jr., he has expanded his father's empire, diversifying the family agribusinesses and continuing his father's well-known tradition of philanthropy.  As the head of Ben Hill Griffin, Inc., one of Florida's largest citrus producers, and a major player in the famed Florida agribusiness Alico, Ben Hill Griffin III is one of the most influential people in the citrus industry today.
Griffin was born in Lake Wales in 1942 and graduated from Frostproof High School and Central Florida Community College.  He grew up working in his father's citrus groves and on the family cattle ranches.  His father was tough and hard-working — a self-made millionaire who turned 10 acres of citrus groves into one of Florida's biggest agribusinesses — and he gave his son no special treatment.  Ben Hill III learned the business from the ground up, and when it came time for him to take over for his father he was well prepared.
Today Ben Hill Griffin III is chairman of the board and CEO of Ben Hill Griffin, Inc., a private citrus and cattle company with 10,000 acres of citrus groves and 85,000 acres of ranch and timberland in Central Florida.  Other company holdings include the Lake Wales Country Club and Griffin Fertilizer Company, one of Florida's largest producers of agricultural fertilizer.
Griffin served as chairman of the board and CEO of Alico from 1990 to 2004.  His father had bought a controlling share of the company's stock in the 1970s, when Alico owned over 200,000 acres in Southwest Florida.  In the old days, the land was used primarily for citrus, timber, and cattle ranching.  But as chairman, Ben Hill Griffin III aimed at more diversified uses, including sugarcane, sod-growing, rock-mining, and real estate development.  Meanwhile, he continued to add citrus groves.  In 1992 he acquired a controlling interest in Orange-co, a juice and beverage company that operates a large processing plant in Bartow.  With the acquisition of Orange-co, Griffin became one of the few men personally involved in every aspect of the citrus industry — from planting, harvesting, and packing to processing and marketing.
Griffin is a true leader in the citrus industry, promoting the use of cutting-edge technology and best management practices among growers and sharing his expertise as a grower, packer, and processor with each of Florida's major citrus trade organizations.  He is a board member and past president of Seald-Sweet Growers, Inc., the Florida Citrus Processors Association, and Florida Citrus Packers.  He is a past chairman of the Florida Citrus Commission and past director of Citrus World, Inc., and the Florida Citrus Showcase.  Griffin is a member of the Florida Fruit and Vegetable Association, the Florida Agricultural Council Executive Committee, and the Florida Agricultural Museum board of directors.  He was recently inducted into the Florida Citrus Hall of Fame.
Griffin is famous for his leadership in agriculture and for his philanthropy.  He is a generous supporter of higher education in Florida.  In the 1990s under his direction, Alico donated 760 prime acres in Lee County near Fort Myers for the creation of Florida's 10th public university, Florida Gulf Coast University. Alico also created a 215-acre land endowment for the university and donated money for road construction and academic chairs.  The gift was valued at over $50 million, and at the time it was made it was the largest single contribution in the history of Florida's state university system.
Ben Hill Griffin III lives in Frostproof.  He has three grown children, Ben Hill IV, Candace, and Kathryn.